by Bettina Stern

One of the things we love most about our work is the creative side of producing a seasonal menu and working with farmers. Inspired by our personal experience – Bettina's from New York City and Suzanne from rural Ohio – we created the unique relationship between farmers and urban, street-style food to present a new culinary experience – "farm-to-taco".
Since our company Chaia is based on the idea that people need and want to find ways to eat more vegetables, we've been testing the myriad of taco options for the last two years on willing and happy customers currently at farmers markets in Washington, DC. We are opening up our first shop in the beautiful and historic
neighborhood of Georgetown later this spring. Our brick-and-mortar will provide the same simplicity, freshness and flavor that has led to long lines at our pop-op venues, but will include a larger selection of vibrant vegetarian taco combinations served in our freshly pressed and grilled tortillas.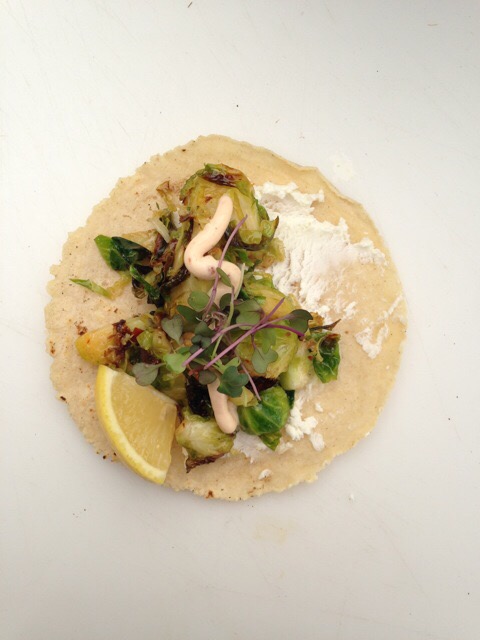 The thought came to us that a taco made from crispy, oven-roasted Brussels sprouts would be delicious. These teeny cruciferous veggies are on so many of today's restaurant menus for a reason: they are addictive when cooked correctly – at high heat until darkened, glistening in olive oil and seasoned only with salt and perhaps a little spice.
To add some brightness and heat to the taco, we add a dash of red pepper flakes in the roasting and then a squeeze of fresh lemon juice just before serving. The creaminess of the goat cheese and the cool yogurt sauce help to temper the spiciness, if you're heavy-handed like us in the seasoning.

Roasted Spicy Brussels Sprouts with Chevre and Chipotle Yogurt Sauce
Serves: 6
Ingredients:
1 ½ lbs. Brussels sprouts, ends trimmed and yellow leaves removed
3 Tbls. olive oil
Kosher salt
One scant tsp. red pepper flakes
Corn Tortillas (see recipe below or buy your natural version without preservatives)
Creamy goat cheese
½ c. plain yogurt
1 chipotle en adobo (canned)
Lemon wedges

Instructions:
Preheat oven to 400 degrees.
Cut each Brussels sprout stem-to-top in about ½ centimeter slices. In a medium bowl, toss Brussels sprouts with olive oil, about 1½ tsp. Kosher salt, and just enough red pepper flakes to suit your palate (ours is a spicy one). Spread on to a baking sheet and cook until they are dark brown. Remove from oven.
Meanwhile, while the Brussels sprouts are cooking, make the chipotle yogurt sauce by placing the yogurt, chipotle en adobo and a ½ tsp salt in a blender and whirring until well combined. Also, prepare a cast-iron pan over high so you can reheat your corn tortillas.
When the Brussels sprouts are finished cooking, reheat the tortillas on each side for about 30 seconds per side. Spread about one tablespoon of goat cheese onto one side of the tortilla, fill each tortilla with about ¼ c. Brussels sprouts, and top with a dollop of chipotle yogurt sauce and a squeeze of fresh lemon juice.
Founders Bettina Stern and Suzanne Simon developed Chaia after years of working together as food writers and educators. Their love for cooking seasonal, flavorful and healthy food for their families and friends led them to develop this fast casual restaurant model after identifying a niche – people want to eat more vegetables; they don't always know how.
Comments